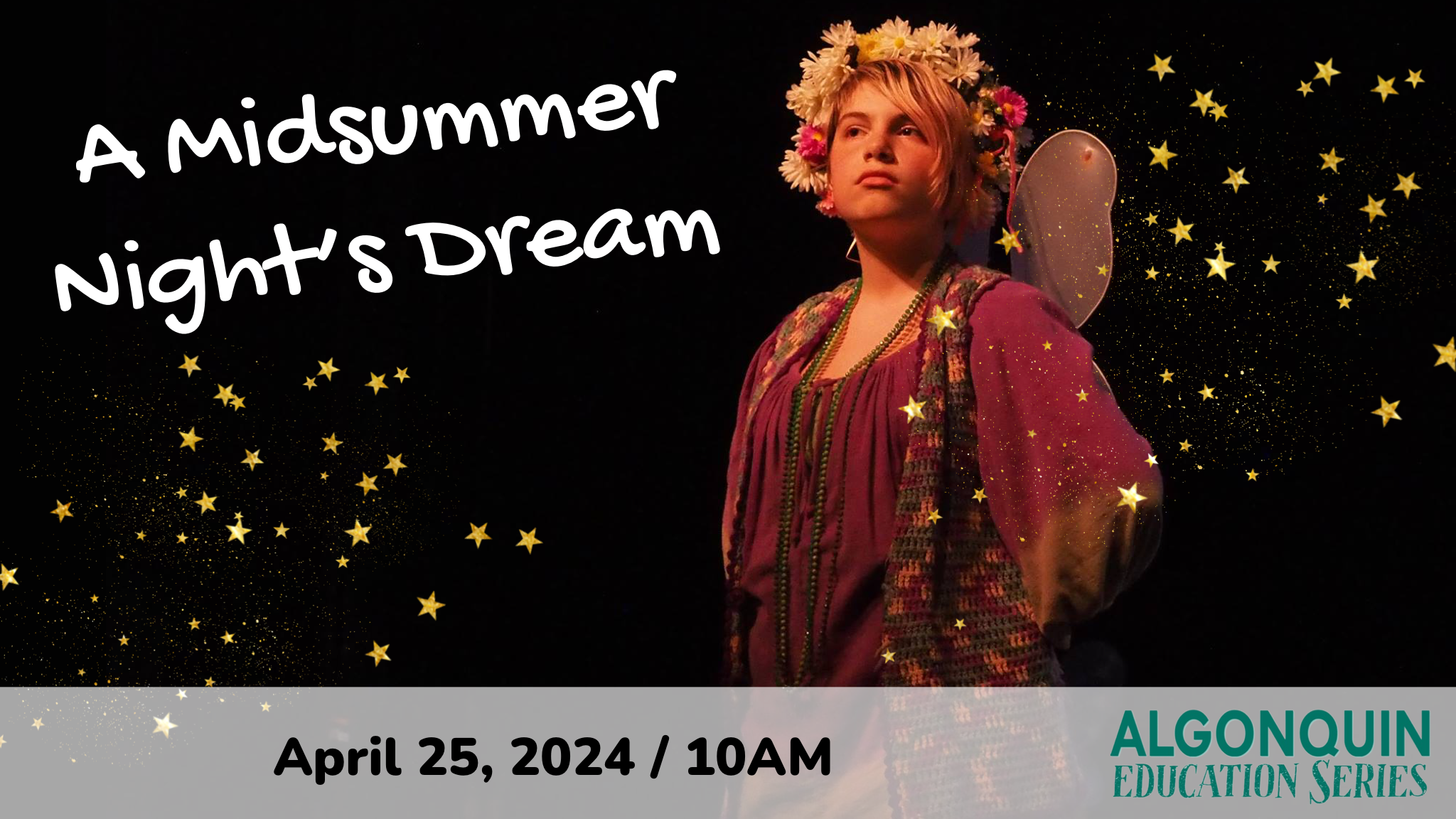 A Midsummer Night's Dream
Thursday, April 25, 2024
There's a moon out tonight, and it's shining on lovers, clowns, and fairies hip-hopping through the enchanted woods in the most resilient of Shakespeare's comedies, easily adapting itself both to traditional and a radically new interpretation.
Performances
Thursday, April 25
10:00am
Tickets
$12 - Individual Sales
Available online or from the Box Office at 732-528-9211.
$10 - Education Groups of 10 or more
Email Julie Nagy at
[email protected]
or call 732-528-9224 for group reservations.
Synopsis
"I have had a most rare vision. I have had a dream, past the wit of man to say what dream it was."
Featuring an exuberant array of music, dance, and visual surprises, a fresh new vision for Shakespeare's most popular comedy features a world constructed almost entirely of objects that would normally be on their way to a landfill. Delight in seeing how the inventive bands of fairies transform trash into whimsical treasure. Transform the classroom to the stage as art, nature, and the ancient tradition of theatre all come together!
Studying Shakespeare's texts is not only a study in rich language and drama, but also a study in various themes that highlight our shared humanity. His works incorporate themes that are universally relevant and timeless, which is why he continues to be an important playwright to this day.
Bring Shakespeare's plays to vivid life with your school with The Shakespeare Theatre of New Jersey's acclaimed educational touring company, Shakespeare LIVE!. Each performance by Shakespeare LIVE! is energetic, exciting and engaging, witty and visually imaginative - making Shakespeare accessible and very appealing to students and the educators who instruct them.
This performance fulfills the following State of New Jersey Core Curriculum Standard(s) and Algonquin Arts Performance Component(s):
21st Century Life and Careers (LIFE), Visual and Performing Arts (VPA), Comprehensive Health and Physical Education (CPA), Social Studies (SS), World Languages (WL), Language Arts Literacy (LAL), Discussion Component (DISC)
Event Information
Event Information:
Running time: 75 minutes
Intermission: No
Age: Grades 5 and up
Credits
The Shakespeare Theatre of New Jerseys, Shakespeare LIVE!
Sponsors
Interested in sponsoring a show at Algonquin Arts Theatre? Call 732-528-9211 for information.