Auditions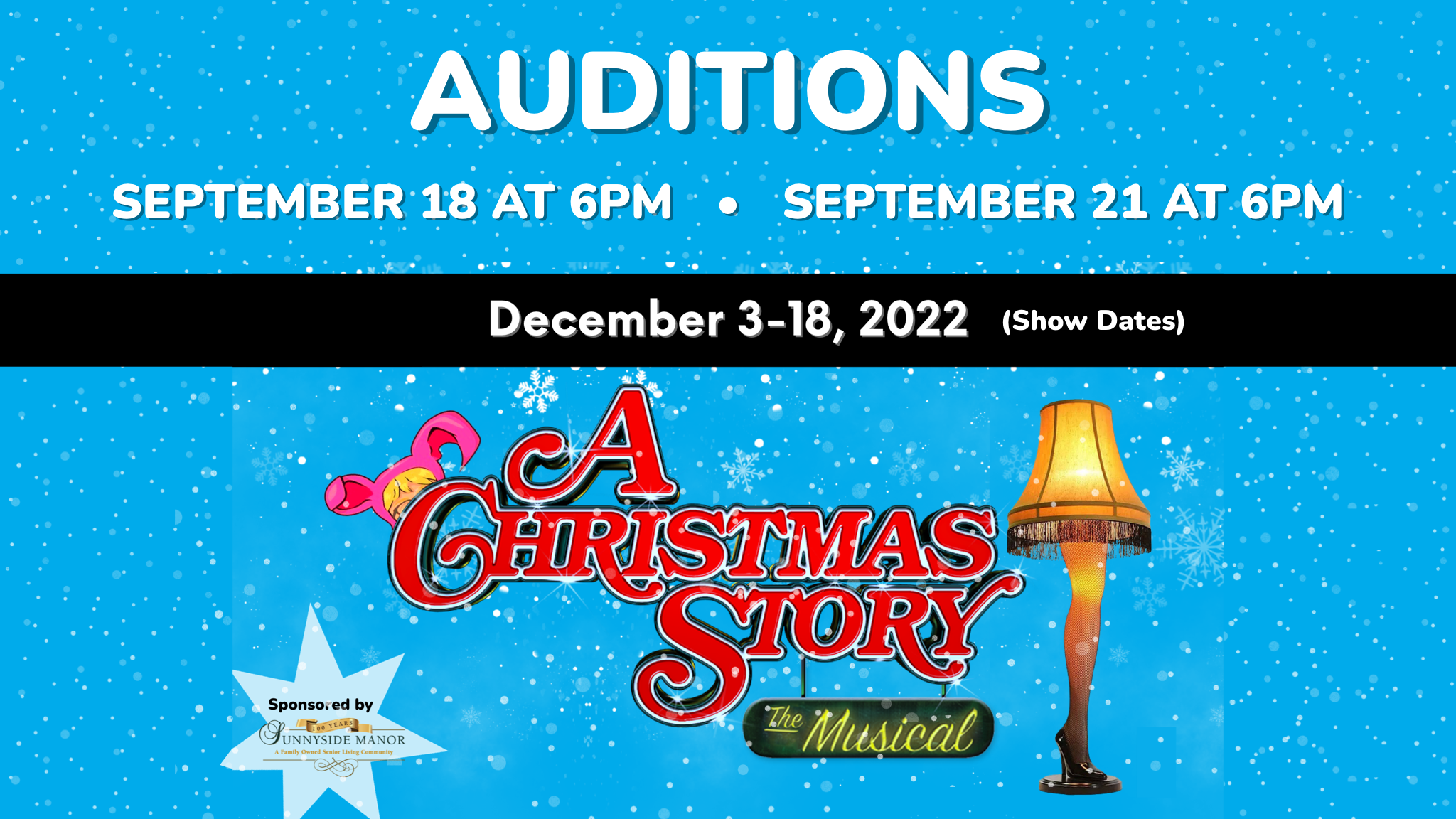 A Christmas Story, The Musical | Auditions
9 Performances will run from December 3-18, 2022
Director & Choreographer: Jessica O'Brien
Musical Director: David Shirley
Associate MD: Cindy Dwyer
Stage Manager: Frank Falisi
ACCEPTANCE THROUGH AUDITION ONLY
In-person, Open Call from 6:00 p.m. - 9:00 p.m.
Sunday, September 18, open call from 6 - 9:00 p.m.
Wednesday, September 21, open call from 6 - 9:00 p.m.
LOCATION
All auditions will be at the Algonquin Arts Theatre, 60 Abe Voorhees, Manasquan, NJ.
AUDITION REQUIREMENTS
Please prepare a 32-measure cut of a song in the style of the show that shows your vocal range to be heard and performed at the open call audition. Actors need to provide sheet music (piano/vocal), in the correct key, of the song they are auditioning with for the piano accompaniment.
Students under the age of 18 who are cast in this production will participate in the Algonquin Youth Ensemble.
**More information is at the end of this audition posting.
ACTORS MUST FILL OUT THIS AUDITION FORM PRIOR TO ATTENDING AN OPEN-CALL AUDITION:
A Christmas Story, Audition Form
Please submit the following via this form:
CALLBACKS:
In person callbacks, including a movement call will be held the evening of Sunday, September 25. Actors will be told at their initial audition whether they should attend the callback scheduled. If the callback is a conflicting time, please indicate this on your audition form.
REHEARSAL INFO:
Rehearsals will be at Algonquin Arts Theatre or in a nearby location. Rehearsals to begin in October of 2022. Exact rehearsal schedule will be set once the availability of all actors is learned but will take place during weekday evenings and weekends (depending on role and when called).
BEFORE YOU AUDITION, be advised that all actors must be available for rehearsals that are to be scheduled according to the actor's role. It is mandatory for actors to be available for all scheduled evening tech rehearsals (November 27 - December 2) and 9 performances (December 3-18). Conflicts will not be accepted after the cast has been announced.
PERFORMANCE DATES & TIMES:
Visit our ticket sales event page for details.
ROLES AVAILABLE:
From the songwriting team behind the smash hit Tony Award-winning musical Dear Evan Hansen and the Academy Award-winning film La La Land, A Christmas Story, The Musical, brings the classic 1983 movie to hilarious life on stage! Set in 1940s Indiana, a young and bespectacled Ralphie Parker schemes his way toward the holiday gift of his dreams, an official Red Ryder® Carbine-Action 200-Shot Range Model Air Rifle. An infamous leg lamp, outrageous pink bunny pajamas, a maniacal department store Santa, and a triple-dog-dare to lick a freezing flagpole are just a few of the distractions that stand between Ralphie and his Christmas wish.
Ensemble: Singers, Dancers and Improvisational skills - various ages and personalities. Actors in the ensemble will play a variety of roles including Bank Tellers, Customers, Goggles Kid, Waiter's Daughter, Elves, Delivery Man, Townspeople, Parents, Villain, Bank robbers, Escaped Prisoner, Bartender, Customers, Can-can girls, Can-can girlfriend, Policeman, Fireman, Doctor, Nurse, Waiter, etc.
Adult Dance Ensemble: 4 to 5 Men & 4 to 5 Woman
Adult Singing Ensemble: 4 to 5 Men & 4 to 5 Woman (neighbors, Parents, various featured roles)
Children's Ensemble: 5 to 6 Boys & 5 to 6 Girls (Strong vocal and dance skills. Tap dancing skills is a plus.)
Classmates: Schwartz, Flick, Scut Farkus, Grover Dill, Esther Jane & Mary Beth
Tap Specialty Boy: Exceptional Tap Dancing skills. Age: 8-14
Ralphie: Cute and winsome, but not precious. Bright, but not precocious. A regular kid you wouldn't mind having as a next-door neighbor. He's a bit mischievous and rascally but with a twinkle in his eye.
Age: 9, going on 10
Vocal Part: Alto
Vocal top: D5
Vocal bottom: G4
Randy: Must be smaller than Ralphie, cute and funny little boy, funny in the sense that he is awkward and off-beat, must be physically comfortable onstage and have a lot of strong concentration, but, like Ralphie, not show-bizzy; voice is unchanged and, tap dancing a plus.
Age: 8-12 years old (to play 7 or 8)
Vocal Part: High belter
Vocal top: High C#
Vocal Bottom: Low F#
Jean Shepherd / Narrator: A charismatic storyteller who has the ability to weave a spell and draw an audience into his magical world. He is omniscient but not overpowering - a good-natured curmudgeon with a deadpan sense of humor. He holds the audience with his tremendous presence and spark.
Age: Late 40s to early 60s
Vocal Part: Spoken
Non Dancer
The Old Man: A guy with a good heart, though it is buried beneath a sometimes gruff (and rough) exterior. He's a devoted husband and father who loves his family but doesn't overtly show it. He usually expects the worst but is capable of excitement if the situation warrants (though it usually doesn't). In his moments of fantasy, he is transformed from his usual grumbling blue-collar self to a true song and dance man.
Age: 30s to early 40s
Vocal Part: Baritone
Vocal top: F#4/Gb4
Vocal bottom: B3
Mother: More in charge of the family than the Old Man is, but she would never let him know it. She is warm and affable ... at times a bit daffy ... but not a pushover. A vibrant woman, she is always busy, especially anytime she's in the kitchen. She is the secret engine that keeps the family running, keeping the household together with an impressive balancing act.
Age: 30s to 40s
Vocal Part: Mezzo-Soprano
Vocal top: D5
Vocal bottom: G3
Miss Shields: The local elementary school teacher. A seemingly stereotypical 1940s educator - prim and proper. Stern when necessary, though warm - and even humorous - when the situation merits it. In Ralphie's fantasy, she becomes a dynamic, show-stopping, brassy belter and tapper - a force to be reckoned with.
Age: 30s to late 50s
Vocal Part: Alto
Vocal top: G5
Vocal bottom: E3
Santa: The Santa Claus at Higbee's Department Store is decidedly unlike the typical "Jolly Old Elf" of legend and lore. Ill-tempered and slightly inebriated, he is unhappy with his job. He dismisses each child as quickly as possible in an attempt to put an end to the day and, perhaps, head for the nearest "watering hole."
Age: 30s to early 60s
Vocal Part: Tenor
Vocal top: A#4/ Bb4
Vocal bottom: C#3/ Db3
**ALGONQUIN YOUTH ENSEMBLE (AYE)
Here at Algonquin Arts Theatre our produced Broadway Series performances work closely with the Education Department. This gives us an opportunity to educate students in all areas of the performing arts. Through our Performing Arts Academy (PAA) each semester (Fall-Winter, Winter-Spring & Summer) we offer a program called the Algonquin Youth Ensemble (AYE). AYE is an audition-only, comprehensive instructional, full immersion theatre education program. The Algonquin Youth Ensemble is a class first. There is not a tuition fee to participate in this particular program. Students will be selected based on their audition alone. Not all who audition will be cast/selected for the program. Transcending the typical theatre program, AYE members not only have the opportunity to study theatrical disciplines with experienced professionals, but also must apply what they've learned in a fully mounted main stage production. Open to students ages 8-17, participants commit not only to all production rehearsals and performances but scheduled workshop classes.
To sign up for our email audition list, please create an Account on our website. You must select 'YES' as your contact preference to receive email updates.
Once logged into your personal account, you can visit the 'Other Preferences' tab to opt in to audition email announcements. You can also email [email protected] to be placed on our audition list.