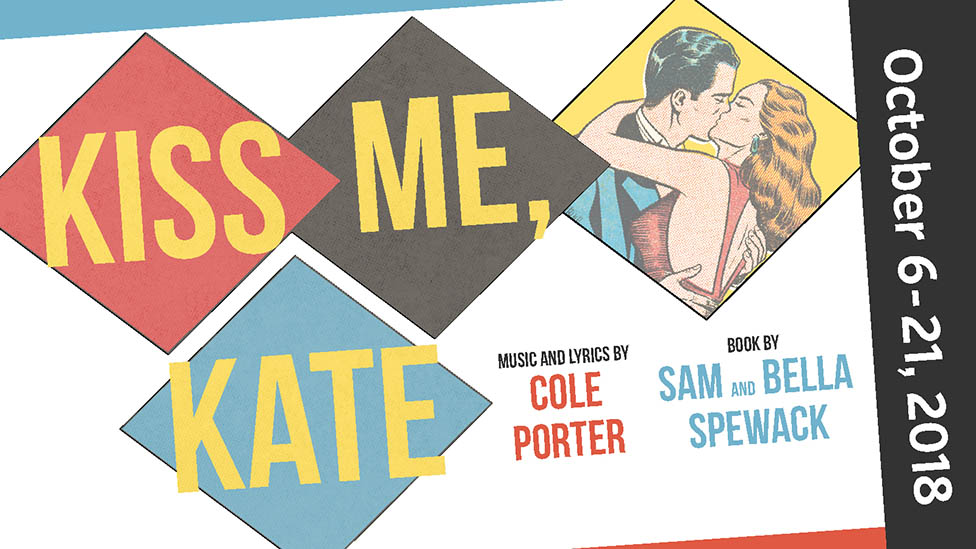 Kiss Me, Kate
October 6 - October 21, 2018
Cole Porter's spirited musical comedy with feuding couples, gun-toting gangsters & and amazing music.
Performances
Tickets
Event Information
Running time: Approximately 2 hours, 45 minutes, including intermission.
Intermission: Yes
Kid Friendly: Recommended for ages 8 & up - Please note that children under age 4 will not be admitted.
Synopsis
Passions run high as leading lady Lilli Vanessi and her ex-husband, actor/director Fred Graham, battle onstage and off in a production of Shakespeare's Taming of the Shrew. With romance, comedy, sophistication, and behind-the-scenes high jinks, KISS ME, KATE combines the irreverent humor of two brilliant writers: Cole Porter and William Shakespeare. Musical numbers include "So In Love," "Wunderbar," "Tom, Dick or Harry," "Too Darn Hot," "Brush Up Your Shakespeare," "I Hate Men," "Always True to You (In My Fashion)" and "Another Op'nin, Another Show."
KISS ME, KATE was originally produced in 1948, and is considered one of Broadway's great treasures. The revised 1999 Broadway version features all seventeen of the original songs remain in the revised score, with the addition of "From This Moment On," from Porter's OUT OF THIS WORLD and the 1953 film adaptation of KISS ME, KATE.
The original production of KISS ME, KATE played for 1,077 performances on Broadway at the New Century Theatre and for 501 performances in London at the Coliseum Theatre. The cast included Alfred Drake, Patricia Morison, Lisa Kirk and Harold Lang. The original cast album issued in 1948 by Columbia Records had the distinction of being the very first Broadway cast recording to be issued on LP. KISS ME, KATE was revived in 1999 at the Martin Beck Theatre on Broadway, where it played for 881 performances starring Brian Stokes Mitchell and Marin Mazzie, and at the Victoria Palace Theatre in London, where it played for about 300 performances starring Brent Barrett and Marin Mazzie.
In 2000, the revival won five Tony Awards for Best Revival, Best Actor, Best Costumes, Best Director and Best Orchestrations, and six Drama Desk Awards for Outstanding Revival, Actor, Director, Orchestrations, Set Design and Costume Design.
Credits
KISS ME, KATE
Music and Lyrics by Cole Porter
Book by Sam and Bella Spewack
KISS ME, KATE is produced by arrangement with TAMS-WITMARK MUSIC LIBRARY, INC., 560 Lexington Avenue, New York, NY 10022.
Sponsors
Sunnyside Manor